HIFU Treatment: Everything You Need to Know
At Benehealth, we believe that beauty is a journey. We know that you want to be your best self, and we're here to help you get there. That's why we offer a wide range of treatments, from facials to natural treatments, that can help you feel like an entirely new person—and make you look like one too!
Our HIFU therapy service is one of our most popular options for anyone looking to enhance their physical appearance. It's safe, non-invasive, and easy on your body—which means after just one or two sessions, you'll be able to have a natural, younger appearance with no downtime.
HIFU is ideal for both men and women who want to improve their appearance without undergoing surgery or taking medication. The procedure takes about 45 minutes per session and can be repeated as needed until you achieve the desired results!
What is HIFU?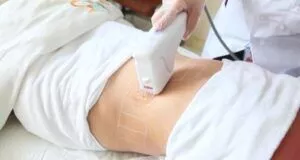 HIFU (High Intensity Focused Ultrasound) treatments are a non-surgical cosmetic treatment that rejuvenates aging skin. It lifts sagging skin on the face and body, specifically on the lower face, around the eyes, and the neck.
The treatment uses ultrasound wave energy to reach underneath the skin surface. It heats up the skin tissue this causes stimulation to the targeted area. As the area heals, the skin produces more collagen, resulting in tighter and younger-looking skin.
HIFU technology is completely unlike radio frequency, laser, and other skin treatments. It is a non-surgical face and neck lift and body contouring procedure using ultrasound energy.
How many HIFU sessions will I need?
Usually, clients see results in a single session. Some clients may need more sessions depending on how their body builds collagen and the current condition of their skin.
Benehealth recommends a maintenance program 6 – 12 months apart. The program includes Mini HIFU which can be done 2 – 3 months after the initial HIFU skin tightening. It will help the memory of the muscle and skin texture.
How long does it take to see results from HIFU?
After your HIFU treatment, you will see some slight plumping, but the best results will come after 2 – 3 months. Your body will continue to regenerate collagen for the next 6 months after the initial treatment.
We continue to age every day, so we recommend pairing the treatment with a maintenance program. Adding skin treatments in-between to help the skin texture and reduce fine lines can also generate better results.
Multimodality is the best way to achieve a natural, long-lasting, and preventative younger look. This includes making sure you are healthy on the "inside". Since your overall health reflects on how your skin looks, Benehealth takes a holistic approach, following functional medicine principles, to healthier and younger looking skin.
How long will HIFU last?
Results from HIFU treatments can last for a year or more. We cannot give a more definite time frame since results vary depending on an individual's collagen production process and other lifestyle factors that could affect aging. The fact is we continue to age every day, but HIFU will help slow down the aging process.
How does it work?
HIFU treatments use high-frequency ultrasound wave energy to target tissues under the skin surface. Each probe has a different depth. For the face, the practitioner delivers 2 passes, each with a different energy depending on your needs. One HIFU session for each patient is about 400 to 600 shots, depending on the treated area and size. The radar handpiece is smaller to target areas around the eyes and mouth. The 1.5mm probe is the mini HIFU Glow, we call this our party or event treatment for that radiant glow.
Once the treatment targets specific areas on the face and the body, the body's natural wound healing response results in the formation of new collagen. This results in long-term tightening and strengthening of the skin.
The treatment can take up to an hour or more.
Is there downtime?
Unlike cosmetic surgery, HIFU treatments do not require any downtime. After the treatment, you will see some slight redness or swelling but normally your skin will have a healthy glow. You need to take certain precautions like avoiding temperatures that are too hot or too cold, but you will be able to resume most of your daily activities.
Who qualifies for HIFU?
HIFU is for everyone that is concerned about aging, tired skin or if you want to get a head start on prevention. This gives you a natural healthy glow without surgery or other invasive treatments. You may schedule a consultation with a Benehealth practitioner to determine how this treatment can benefit you. Areas that can be treated are around the eyes, cheeks, jowls, neck and mouth, and we recommend the full face and neck treatment for best results.
What's the difference between HIFU and microneedling?
HIFU and PRP therapy with microneedling are both non-invasive treatments for getting firmer, younger-looking skin. These two treatments work amazing together for best results. We recommend skin PRP microneedling in-between the HIFU treatments to constantly remind the skin to regenerate. Because our skin is aging daily, we need to continue to stimulate the collagen.
HIFU uses ultrasound energy to target specific areas, encourage collagen production and tighten the skin from underneath in the deep layers. Microneedling with PRP helps with the upper layers of the skin. Together, they create a faster response, making the skin spring back to youthful-looking skin. Book a skin analysis and medical aesthetics consult so we can design your unique skin package.
Can you do HIFU on the body? YES!
HIFU is a great way to reduce stubborn fatty areas on the body without going under the knife. The treatment uses ultrasound energy to target fat cells under the skin surface. The body will then dissolve the fat through natural channels.
Not only does HIFU reduce fat, but it also helps with cellulite and tightening the skin, making the target area slimmer and firmer. We recommend HIFU treatment for areas like the stomach, arms, back fat, and love handles, anywhere you see pockets of fat on the body.
HIFU isn't specifically made for weight loss. It's more suited to targeting stubborn fat deposits that can be difficult to get rid of.
We combine our fat lipolysis with HIFU therapy to get a faster, nicely contoured look. Schedule a medical consult to see if this is a good treatment for you.
Is HIFU painful?
HIFU is a non-invasive treatment that doesn't use needles. Patients may experience a slight tingling sensation during the procedure which can be uncomfortable. You may also experience some slight swelling and redness a few hours after the procedure.
Is body HIFU permanent?
Yes, HIFU treatments on the body are permanent. However, the patient's lifestyle post-treatment will affect results. We highly recommend pairing the treatment with regular exercise and a healthy diet for best results. We have functional medicine nutritionists and health coaches to help you achieve and maintain your goals.
Body HIFU will need to be repeated 6 to 8 weeks apart after the initial treatment. The target area and size of the unwanted fat pockets will help determine how many treatments you will need.
How much do HIFU treatments cost?
Treatment prices can vary depending on the areas of concern. We will take factors like whether the target is on the face or the body and the area size into consideration.
Prices for face procedures can vary depending on if it's a full face or part of. We always recommend full face and neck to begin with.
Book in for a consultation for a personalized quote, and we can tell you about our package discounts.
What's the difference between HIFU and surgery?
HIFU is significantly cheaper than surgery. It also doesn't require individuals to go under the knife and treats target areas using needles that penetrate the skin surface. Unlike surgery, HIFU treatments do not require any downtime. People who get this treatment can continue with most of their daily activities despite some possible side effects.
HIFU Aftercare
To get the best results from the treatment, you need to follow certain steps once it's done. You might also go home with aftercare products. Following these steps will also minimize possible side effects.
Avoid exposure to temperatures that are too hot or too cold, including activities that involve sun exposure, sunless tanning and more.
Avoid applying all products that contain skin irritants on the treated area. These irritants include glycolic/ salicylic acids, benzoyl peroxide, and retinol products such as Retin A, Tazorac, Triluma, Differin, and Vitamin C for one week pre and post-treatment
Advise staff when taking antibiotics.
Avoid alcohol. The liver will be mainly responsible for disposing of the fat deposits destroyed during the treatment. Drink 10-12 glasses of water for 4 weeks and follow a healthy diet and light exercise plan.
HIFU Maintenance
To get long-lasting results, we recommend two HIFU treatments in the first year spaced 2-4 months apart. You can then get one treatment a year afterwards to maintain the results of the treatment. For trickier areas, you may need a few extra treatments 3 months after the first treatment.
If you'd like to get an instant glow, you can try our mini HIFU treatment which penetrates 1.5 mm in the epidermis layer. It can be done more often than regular HIFU face and neck lifts and can help boost collagen growth.
We consider it our "event" treatment, because it's perfect when you're attending events and want to look your best. It takes 45 minutes with no discomfort or damage to the skin surface.
Areas That Will Benefit on the face:
Lift and tight eyes
Lift and firm jowls
Soften smile lines
Reduce nasolabial folds
Improve neck appearance
Full facelift including neck
Reduce double chin
The immediate effects of your treatment will continue to develop over time and many patients continue to experience a more contoured look up to 12 months post-treatment.
Book a consultation at our Surprise, AZ location to see how we can best help you.
HIFU can also treat these body areas:
Love Handles
Buffalo Hump
Cellulite
Mommy Tummy
Back Fat
Buttocks
Inner Thighs
Outer Thighs
HIFU is a revolutionary skincare option that spares you from going under the knife and enables you to look your best. And it's a treatment that could, potentially, make you look years younger. This is not a weight-loss treatment but a tightening treatment. We recommend combining it with a healthy diet, Infrared sauna, and exercise to maximize results.
If that sounds like something you might want to try, then reach out to us. We'll do our best to help you discover all that it has to offer. Book your consultation now! Start your journey to looking healthy, refreshed and more youthful!